The Importance of Regular Oil Change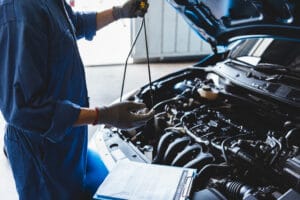 Did you know that one of the most important things you can do for your car is to get a regular oil change? An oil change can help to keep your engine running smoothly and protect it against wear and tear. The old oil is drained and replaced with new oil, and the mechanic will also check the levels of other fluids, such as coolant and brake fluid.
There are different types of Engine Oils. The most common types are:
-Conventional Oil: This is the most basic type of engine oil. It is made from crude oil and can be used in most vehicles.
-Synthetic Oil: This type of engine oil is made from a combination of synthetic and natural ingredients. It provides better protection for your engine than conventional oil, but it is more expensive.
-High-Mileage Oil: This type of oil is designed for vehicles with over 75,000 miles on them. It helps to protect engines that have suffered from wear and tear over the years.
Over time, oil breaks down and becomes less effective, so it needs to be replaced periodically. An oil change is important because they help to keep your engine running smoothly and protects it against wear and tear.
Cars need an oil change every few months to keep running properly. (How often depends on the type of oil used and the manufacturer's recommendations.) Old oil gets dirty and can damage the engine, so it needs to be replaced with fresh oil.
The mechanic will also check other fluids in the car during an oil change, such as coolant levels, and top them off if necessary. They may also inspect the air filter and replace it if it's dirty.